Meet Our Endodontist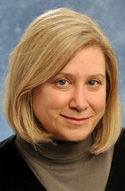 Laurie Fleisher, DMD
Endodontist
Laurie Fleisher, D.M.D. is our Endodontist. Dr. Fleisher did her pre-doctoral and specialty training at Boston University directly under one of the true pioneers in endodontic therapy.
After years in her own private practice in Connecticut, Dr. Fleisher became an Assistant Clinical Professor of Endodontics at NYU College of Dentistry, the Endodontist chosen for the faculty practice. She is an acknowledged expert in the specialty.
Dr. Fleisher's warm, caring and up-beat personality is just what is needed to help calm even the most nervous patients who, after dreading the thought of "root canal", leave smiling.
Contact Us
Advanced Dentistry of Westchester
Kenneth S. Magid, DDS, FICD
Sabrina Magid-Katz, DMD


163 Halstead Ave. • Harrison, NY 10528
(914) 835-0542
Follow Us