Why choose us?
WHY CHOOSE ADVANCED DENTISTRY OF WESTCHESTER?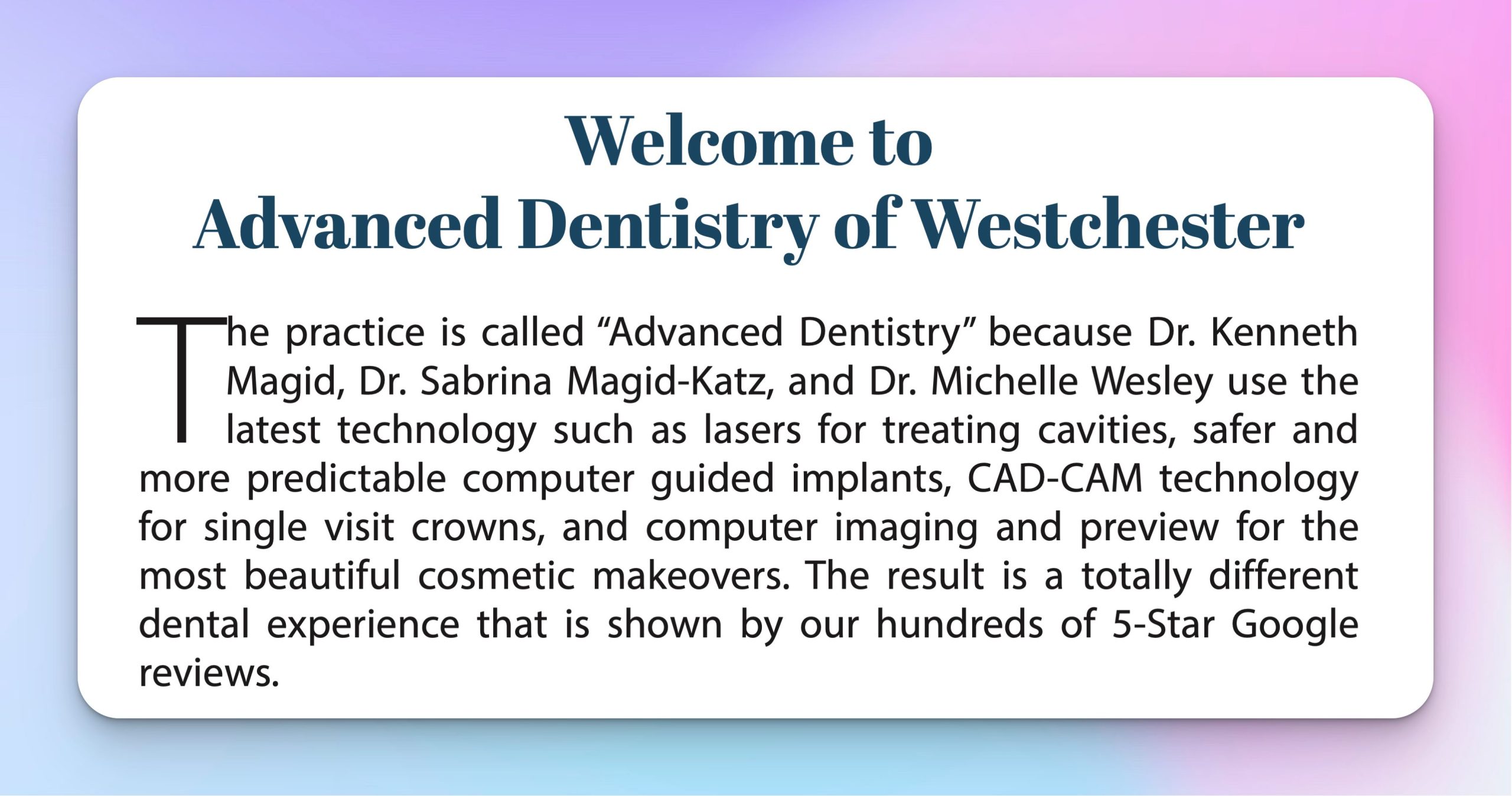 We sometimes wonder what makes a patient choose a dental office for the care of themselves and their families. The many articles written on "How to Choose a Dentist" often talk about referrals from friends, family and neighbors.
After being in practice for over 40 years in Harrison NY, there are likely many people you know that are our patients and we invite you to ask about us.
We proudly have a link on our website to the unsolicited reviews posted by many of these patients.
What if you've just seen articles about us in the media or heard our names. How do you know we are the right dentist for your Westchester care?
Throughout our website, you can learn about the unique expertise of Dr. Magid, DDS, FICD and Dr. Magid-Katz, DMD that has been recognized by other doctors, numerous honor societies, and media outlets of all types.
You can learn about the advanced technologies we use that improve patient care, decrease cost to the patient, and yet are available in less than 1% of the offices in the country.
But choosing a dentist is an important personal decision.

Perhaps one of the most important parts of this decision is knowing that we care about our patients. Easy to say but harder to demonstrate. For us that means not only providing the highest level of care but being there for them when they need us….often after hours and on weekends and holidays. For over 40 years we have insured that dental care is available to our patients 24-7-365.

Transform Your Smile with Modern Cosmetic Dentistry.
Discover high-quality cosmetic dentistry with advanced technology in Harrison, New York. Our dental office in Harrison, New York uses the latest technology available in less than 1% of dental offices.
Experience the Latest in Dental Care.
Ready to experience modern dentistry with state-of-the-art technology? Receive high-quality dental care with the latest technology in Westchester County, New York.
Comprehensive dental care for the whole family.
We offer a variety of dental services, from routine cleanings to complex cosmetic procedures for patients of all ages.
Precise and personalized treatments.
Our advanced dental technology allows for precise and customized treatments perfectly tailored to your unique dental needs.
Efficient dental procedures.
With the power of new dental technology, our cosmetic dentistry is more efficient and effective, resulting in faster procedures. Get your dream smile today with Advanced Dentistry of Westchester
Beautiful and natural-looking results.
Our cosmetic dentistry smiles makeovers create beautiful and natural-looking results that enhance your smile and boost your confidence. Transform your smile with Advanced Dentistry of Westchester today.
Personalized patient care.
Our Westchester County dental team provides personalized care to meet each patient's unique needs and concerns. Ready to become a new patient? Join our dental family today.
Available for emergency appointments. 
If you call our office after hours and press a single number on your phone you will receive a return call from us within minutes and when necessary we have opened the office to care for patients at the oddest times.
If you would like to meet us and our wonderful team in person click here to schedule an appointment, call us at 835-0542, or stop by for a tour. If you would like a second opinion on treatment that has been suggested by another dental office, we offer no-cost consultations.
We try to schedule all of our consultations at the end of our normal office hours to afford patients all the time they need to understand their needs and be comfortable with our recommendations.
We look forward to meeting you.
Dr. Ken Magid, DDS, FICD
Dr. Sabrina Magid-Katz, DMD
PATIENT REVIEW
"I've been going to Dr. Magid for 15 years. He is an amazing dentist. I ask a ton of questions and he answers them all thoroughly and patiently. His work is exceptional and I trust him completely. I recently referred a friend who has a fear of dentists to this practice. She was thrilled with the care and gentle handling she received. I highly recommend this practice."
More Info
Contact Us
Advanced Dentistry of Westchester
Kenneth S. Magid, DDS, FICD
Sabrina Magid-Katz, DMD
163 Halstead Ave. • Harrison, NY 10528
(914) 835-0542
Follow Us on Facebook