Meet Dr. Ken Magid, DDS, FICD

Dr. Kenneth Magid, DDS, FICD – Artistry & Lasting Quality
Dr. Magid, DDS, FICD, is a renowned and respected teacher, clinician, dental technology expert, and smile artisan. His commitment to providing lifelike results with the most advanced, minimally invasive, and functionally sound therapies has kept his patients coming back for more than forty years.
His position as Clinical Associate Professor of International Esthetic and High Technology at NYU College of Dentistry, as well as his appearances on ABC-TV, interviews by the New York Times, and status as an internationally known lecturer have helped to reinforce patient confidence in his knowledge and abilities. His standard of care, supported by research and clinical findings, is combined with warmth and caring to provide exemplary service.
Dr. Magid lectures throughout the U.S. and Canada and is a contributor to many medical journals on topics including "Minimally Invasive" Dentistry, Laser Dentistry, Digital Radiography, Air-Abrasion dentistry, "21st Century Dentistry" and Cosmetic Dentistry. Dr. Magid received his dental degree from New York University College of Dentistry.
Dr. Magid was inducted into The International College of Dentists (ICD) and The American College of Dentists in recognition of his services to the field of dentistry. Less than 2% of dentists worldwide are inducted to both The ICD and The ACD, the pre-eminent honorary organizations of the world's top dentists who have by their actions demonstrated an interest and concern for their communities and profession.
Top-Rated Westchester County Dentist, Dr. Kenneth Magid 
Read more about Dr. Ken Magid's specific skills: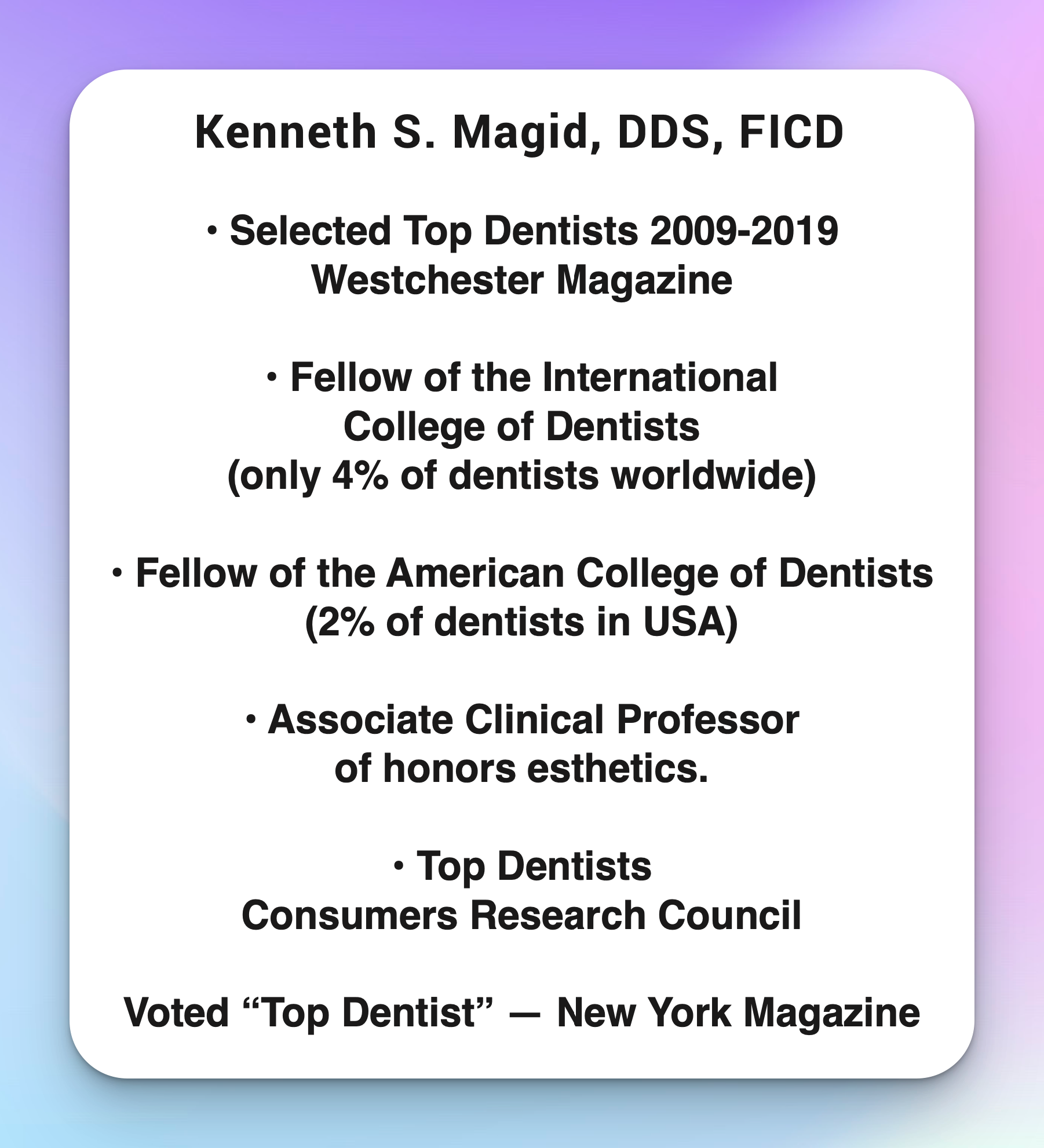 More Info
Contact Us
Advanced Dentistry of Westchester
Kenneth S. Magid, DDS, FICD
Sabrina Magid-Katz, DMD
163 Halstead Ave. • Harrison, NY 10528
(914) 835-0542
Follow Us on Facebook