Treatments for Snoring and Sleep Apnea
WESTCHESTER COUNTY SLEEP DENTISTRY
Watch a featured video of Dr. Sabrina Magid-Katz discussing the impact of Sleep Apnea.
Are you falling asleep during the day even though you thought you got a full night's sleep? You may have a common disorder known as sleep apnea.
With sleep apnea, as you are sleeping you may have one or more pauses in breathing or shallow breaths. Breathing pauses can last from a few seconds to minutes. They often occur five to 30 times or more an hour. Typically, normal breathing then starts again, sometimes with a loud snort or choking sound.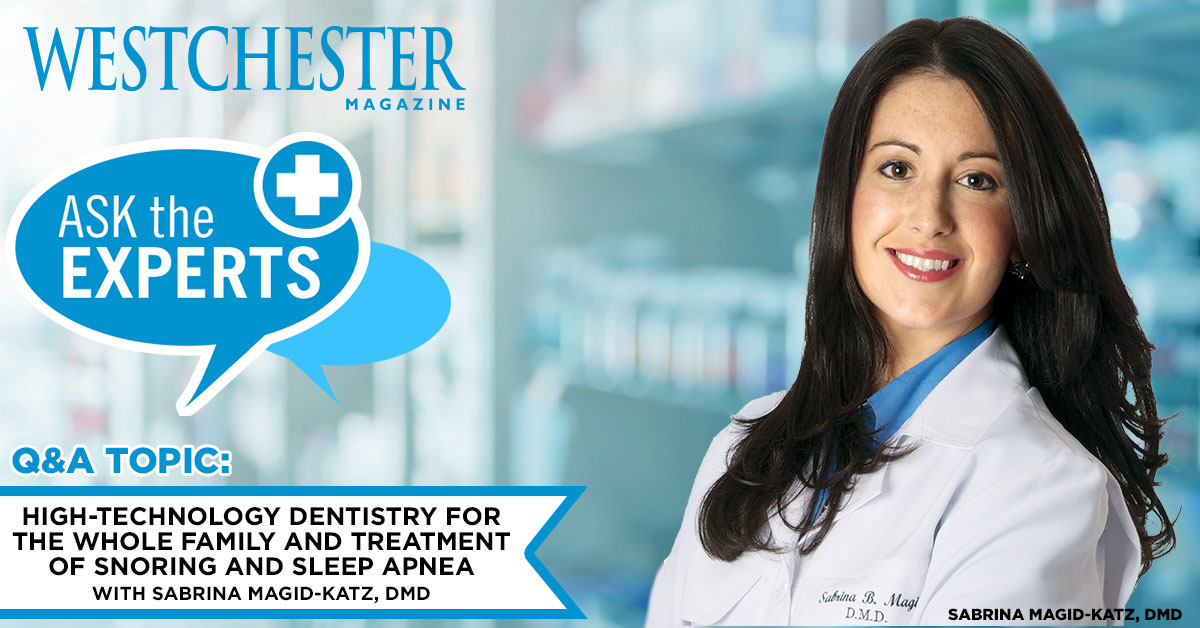 What Is Sleep Apnea?
Sleep apnea usually is a chronic (ongoing) condition that disrupts your sleep three or more nights each week. You often move out of deep sleep and into light sleep when your breathing pauses or becomes shallow. This results in poor sleep quality that makes you tired during the day. Sleep apnea is one of the leading causes of excessive daytime sleepiness.
Because of the increased daytime sleepiness you are at a greater risk for occupational and automobile accidents. Untreated sleep apnea also leaves you at greater risk for developing high blood pressure, stroke, diabetes or other serious health problems. Watch the whole video…
In the past, the recommended treatment for sleep apnea was the CPAP machine, but many patients found it cumbersome and uncomfortable to use and abandoned it.
Dental technology now allows us to offer patients suffering from sleep apnea a comfortable, but highly effective treatment. Rather then a noisy, claustrophobic machine we are able to treat sleep apnea and snoring with a comfortable, custom fitted oral appliance.
The SomnoMed Oral Appliance holds the lower jaw slightly forward, which tightens the soft tissue and muscles of the upper airway. This allows the airway to stay open and unobstructed so it does not impair your breathing.
Treatment of Snoring and Sleep Apnea in Westchester County, NY
If you or a loved one suffers from sleep apnea, don't lose another night's sleep!
Call today and find out how Dr. Magid-Katz can help you get the restful sleep your body needs. Find out if you have sleep apnea. We also provide assistance for Deaf or Hard of Hearing patients.
Solea Sleep in Westchester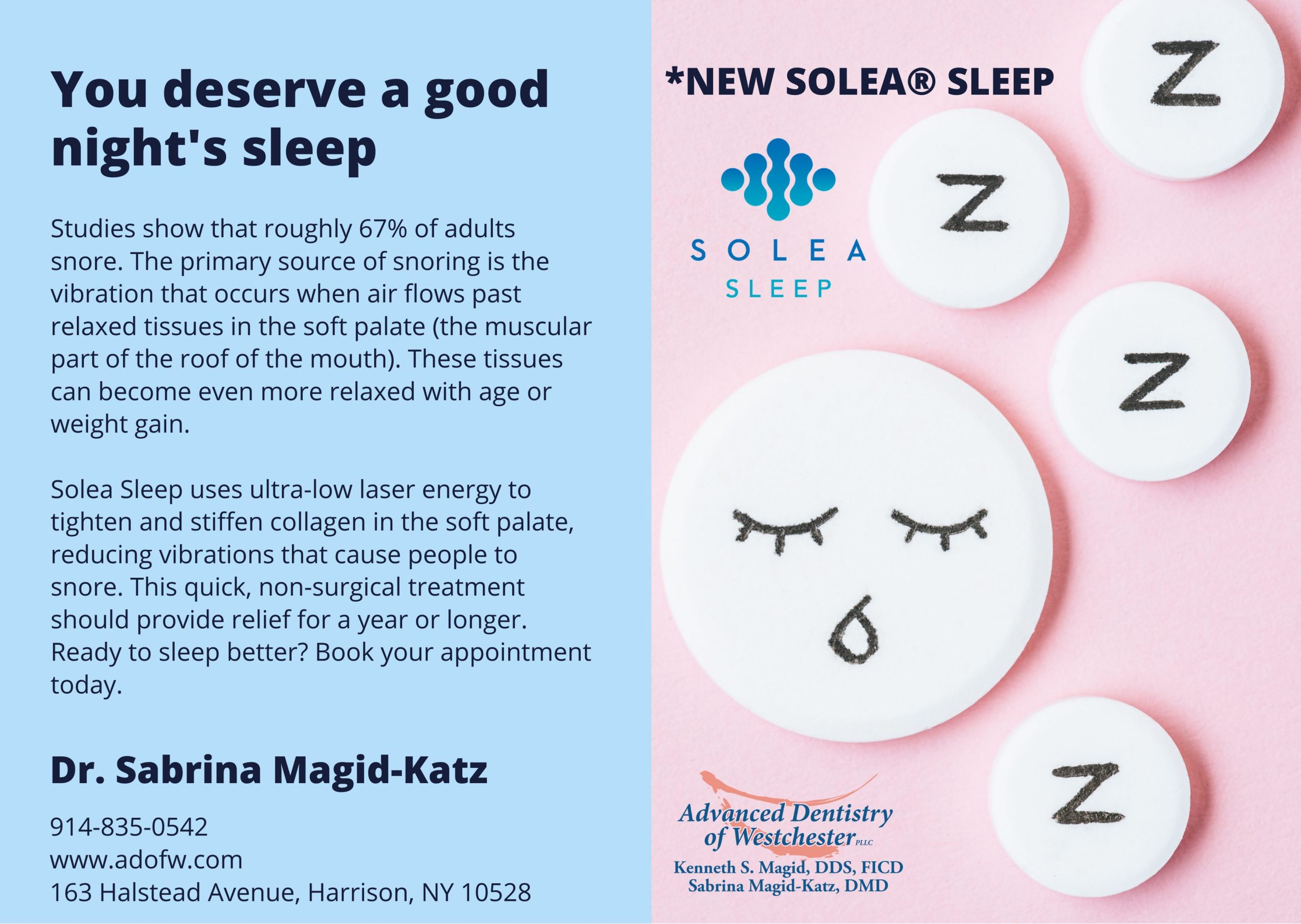 Ready to schedule a Solea Sleep treatment in Westchester County?
The Westchester County dental offers Solea Sleep, the revolutionary laser treatment to prevent snoring and promote a sound night's sleep.
To treat snoring problems, Advanced Dentistry of Westchester now offers Solea Sleep, a new laser therapy that provides rapid relief from snoring using ultra-low laser energy to tighten and stiffen the collagen in the soft palate, reducing vibrations that cause people to snore. This simple, non-surgical, non-oral appliance procedure provides relief for a year or longer, takes only 15 minutes to perform, and allows patients to return to their normal routine immediately after the office visit with no discomfort.
Although Solea Sleep cannot provide relief from obstructive sleep apnea, patients will be screened and given recommendations if they have this problem. Dr. Magid-Katz has extensive experience identifying and treating snoring and sleep apnea.
Dr. Sabrina Magid-Katz on Sleep Apnea
Dr. Sabrina Magid-Katz, of Advanced Dentistry of Westchester, a lecturer to dental societies and a member of the American Academy of Dental Sleep Medicine, tells us about Snoring and Sleep Apnea.
Sleep Apnea in Westchester County, NY | Advanced Dentistry of Westchester
Dr. Sabrina Magid-Katz, D.M.D., lectures to dental societies about screening for Sleep Apnea and is a member of the American Academy of Dental Sleep Medicine. She practices general dentistry at Advanced Dentistry of Westchester in Harrison, NY where she also screens for and treats Obstructive Sleep Apnea. Dr. Magid Katz DMD holds a Bachelor of Science degree in Biological Bases of Behavior from Duke University and completed her Doctorate of Dental Medicine at the University of Pennsylvania. She is the recipient of the prestigious "Robert Seminara Resident of the Year" award for "excellence in General Dentistry and outstanding service as a PGY1 Dental Resident" from NY Presbyterian-Methodist Hospital.
Named by Westchester Magazine as one of the 22 people that everyone in the County will be talking about, Dr. Sabrina Magid Katz DMD takes great pride in the cutting edge dental care she offers patients, as well as in her expertise in screening for oral cancer and obstructive sleep apnea. Throughout her schooling and dental career, she has also been committed to addressing the needs of deaf and hard-of-hearing patients. Dr. Magid Katz has been featured in Teen Vogue, News 12 Westchester, Vice, Dentistry Today, Social Life Magazine, WAG Magazine, Fox 5 and numerous media outlets.  For more information visit www.adofw.com.
Advanced Dentistry of Westchester Delivers the Snoring Relief You Need
Advanced Dentistry of Westchester is the only dental practice in Westchester County offering Solea Sleep.
In addition to using laser therapy for snoring, Advanced Dentistry of Westchester uses lasers for fillings and other treatments, which is just another reason why it is the most advanced dental office in the region.
Call 914.835.0542 to schedule an appointment.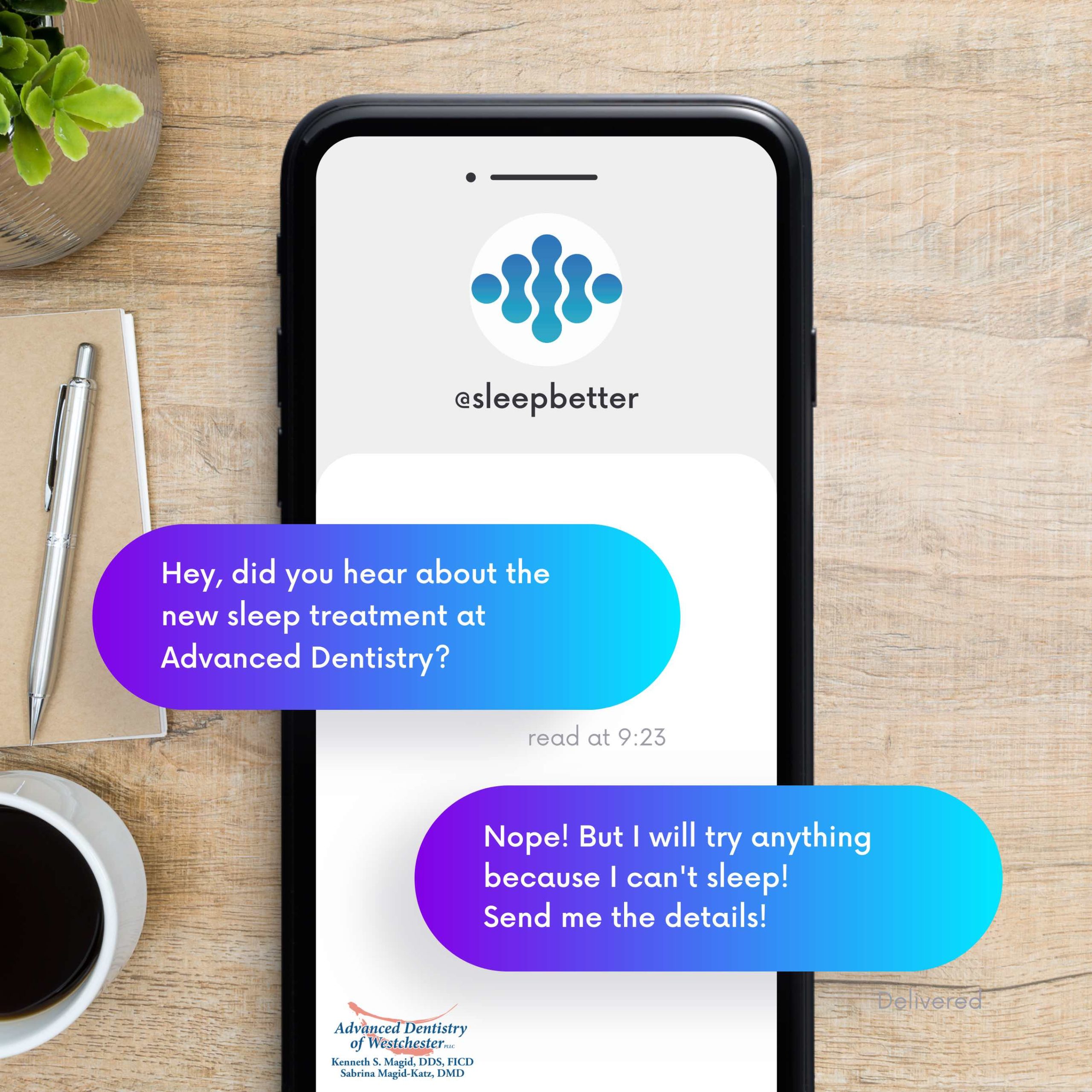 More Info
Contact Us
Advanced Dentistry of Westchester
Kenneth S. Magid, DDS, FICD
Sabrina Magid-Katz, DMD
163 Halstead Ave. • Harrison, NY 10528
(914) 835-0542
Follow Us on Facebook