Welcome to Advanced Dentistry of Westchester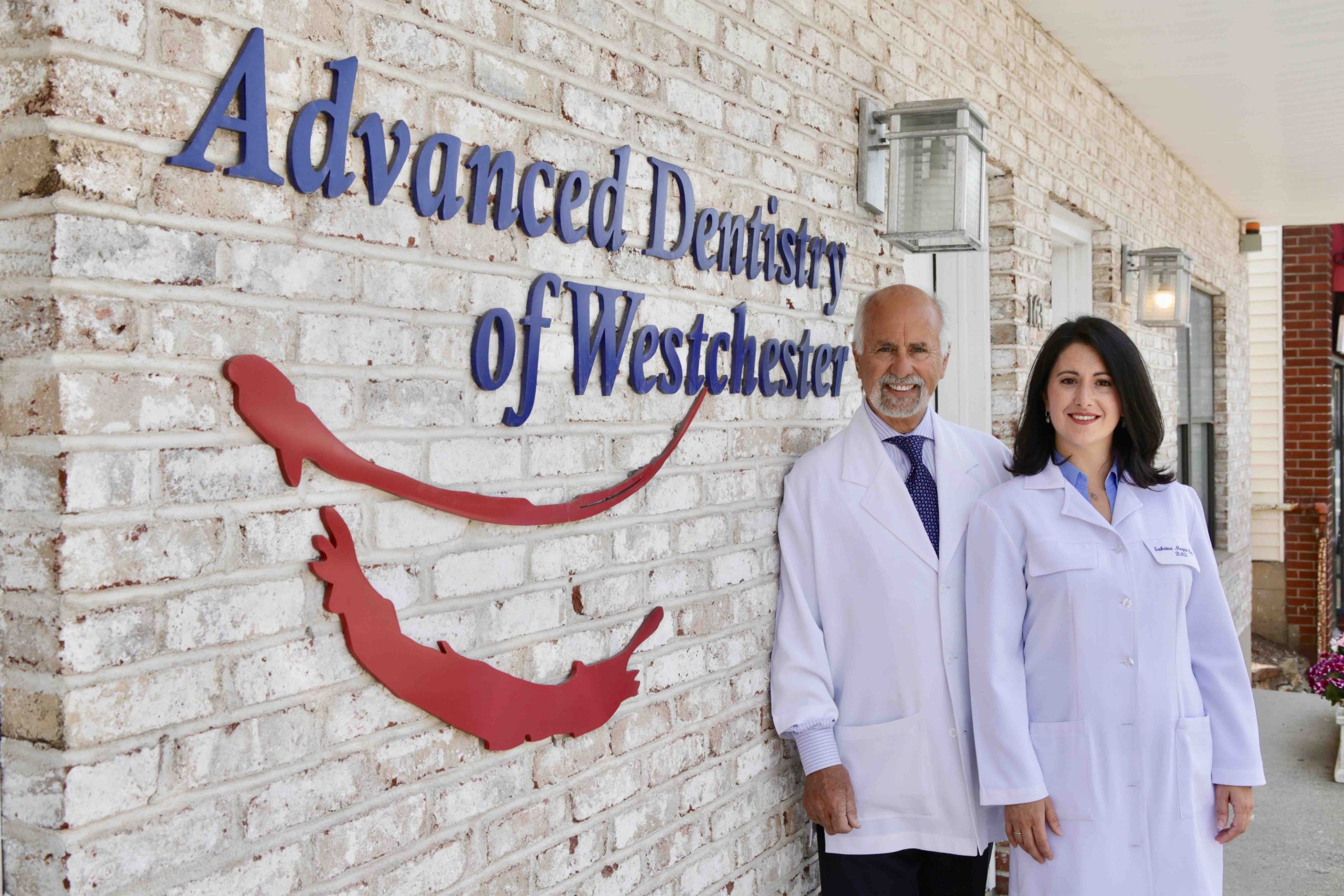 Westchester County Dentist | Advanced Dentistry of Westchester
Our practice is called Advanced Dentistry of Westchester because it offers patients of all ages the latest in dental care available in less than 1% of dental offices. What that means for you, the patient:
For children and adults with cavities using minimally invasive techniques such as a laser for "no shot / no drill" fillings is a completely new experience.
For patients that have spent their entire lives treating cavities with fillings and crowns, a proven successful prevention program means you can finally save your time, money, effort, and enjoy going to the dentist for simple cleanings.
If you need a crown or other large restoration, our CAD-CAM all-ceramic, metal-free crowns can be completed in one visit, appear like a natural tooth and never have the black line at the gum found in older crowns.
With computer guided implants, Dr. Kenneth Magid, DDS, FICD, and Dr. Sabrina Magid-Katz, DMD provide an amazing and unique experience for the dental patient missing teeth.
Trusted Experience in the Westchester County Area
Dr. Kenneth Magid, DDS, FICD, has been selected for dentistry's highest honor, Fellowship in the International College of Dentists and named a "Top Dentist" by Westchester Magazine surveys of dental specialists and the Consumer Research Council of America. Dr. Magid, DDS, FICD, is an Associate Professor and Assistant Director of Honors Esthetics at NYU College of Dentistry and teaches other dentists from around the world the techniques and artistry of creating beautiful smiles. Read more about Dr. Magid, DDS, FICD…
Dr. Sabrina Magid-Katz, DMD has been named one of "22 people every one in the county will be talking about" by Westchester Magazine and one of "Westchester's Rising 40 Stars Under 40" for her leadership in treating deaf and hard-of hearing patients and as a lecturer and member of the Academy of Dental Sleep Medicine with extensive experience identifying and treating snoring and obstructive sleep apnea with an oral appliance, improving her patient's lives and avoiding serious medical problems. Dr. Magid-Katz, DMD has been selected as one of "America's Top Dentists" by the Consumer's Research Council of America. Read more about Dr. Magid-Katz, DMD…
By carefully communicating with their patients and working together with a great team of dedicated specialists, hygienists, assistants, and patient coordinators, Dr. Magid, DDS, FICD, and Dr. Magid-Katz, DMD create a plan, unique to each patient, to achieve the highest level of health and beauty within their patients' scheduling and financial comfort.

We apologize that there is no Closed Captioning for this video.
"After moving to Westchester we started going to Advanced Dentistry of Westchester based on a friend's recommendation. That was thirteen years and three kids ago. To say this practice is light-years ahead of the competition is a gross understatement. In fact almost every time I go there it seems that Drs. Magid have implemented some new piece of technology to better the practice….customer satisfaction taken to a whole new level".
James F.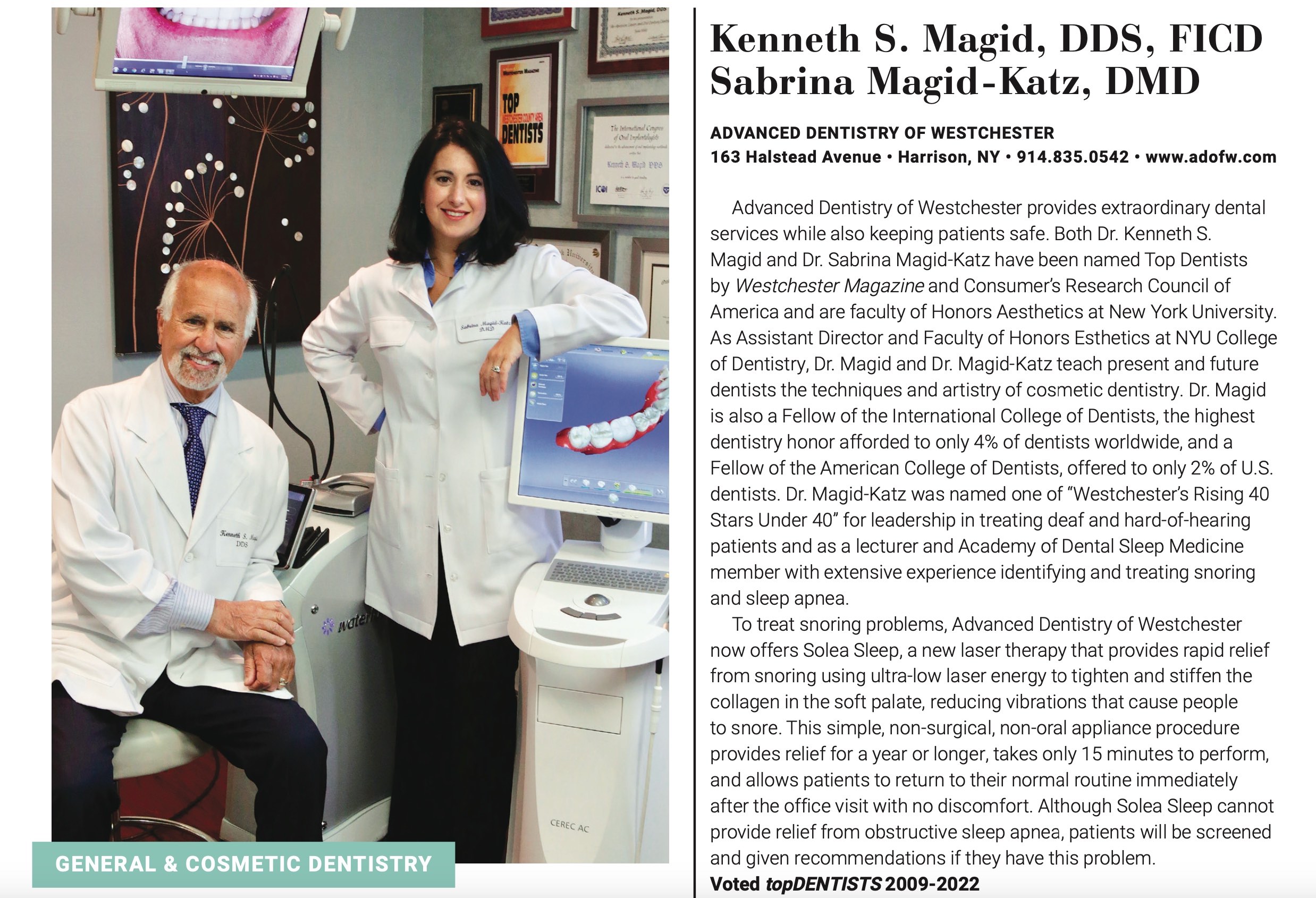 Take a virtual tour of our office
More Info
Contact Us
Advanced Dentistry of Westchester
Kenneth S. Magid, DDS, FICD
Sabrina Magid-Katz, DMD
163 Halstead Ave. • Harrison, NY 10528
(914) 835-0542
Follow Us on Facebook