Practice News

DENTAL NEWS | WESTCHESTER COUNTY, NY
When dental societies and media sources want to know about the latest news in dentistry, they go to Dr. Ken Magid, DDS, FICD, and Dr. Sabrina Magid-Katz, DMD.
If you want the latest treatment in dentistry, shouldn't you?
Dr. Kenneth Magid and Dr. Sabrina Magid-Katz have been recognized as top dentists in the nation. The practice has been featured in numerous media outlets, magazines and publications for their continued excellence and commitment to the field of dentistry.
Read the latest news about our dentists featured in the news by clicking through the links that interests you:
PODCAST: Listen to Dr. Kenneth Magid DDS
Podcast Episode 37 – 50 Years in Clinical Practice, and Still in Pursuit of "Wow"!! – Dr. Kenneth Magid
Dental News & Media | Westchester County | Medical Expert
The latest media segments and interviews from Dental Experts Dr. Kenneth Magid & Dr. Sabrina Magid-Katz
FEATURE INTERVIEWS:
StarterStory: Growing a Thriving Practice to 5000 Patients 
Thrive Global: Words of Wisdom from Dr. Kenneth Magid DDS 
WESTCHESTER COUNTY DENTIST NEWS: 
Our Practice in the Press
Westchester County Business Journal: Nothing but the tooth for Dad and daughter 
WAG MAGAZINE: Dentistry in the age of Covid 
WESTCHESTER MAGAZINE: A True Life Teeth Whitening Story 
WESTCHESTER MAGAZINE: Is a Smile Makeover Right for me? 
WESTCHESTER MAGAZINE: Meet Westchester's Healthcare Heroes of 2020
WESTCHESTER MAGAZINE: Healthcare Profile Top Cosmetic Dentist in Westchester County, NY 
WESTCHESTER MAGAZINE: 22 people to watch in Westchester County 
StacyKnows: Cosmetic Dentistry & Smile Makeovers- what you need to know 
Westchester County Business Journal: Harrison Dentist uses multiple measures to keep office healthy 
PATCH:Dr. Kenneth Magid Inducted into The American College of Dentists
PATCH: Harrison Dentists in the news Dr. Sabrina Magid
PATCH:Harrison dentists encourage patients to minimize plastic usage
HamletHub: Harrison Dentist Dr. Sabrina Magid Katz Co-Chairs the YWCA Movers and Shakers Fundraiser
TELEVISION:
Our Practice Featured on national TV
Dr. Sabrina Magid-Katz Television and Media Appearances
Fox 5 NY: Dr. Sabrina Magid Katz on Dental Anxiety 
News 12 Westchester: Dr. Magid Katz on Sleep Dentistry
News 12 Westchester: Tooth Fairy Inflation 
News 12 Westchester: Sleep disorders vs. ADHD 
DENTAL TRADE PUBLICATIONS:
Dentistry Today: Dr. Kenneth Magid Inducted into The International College of Dentists 
Dentistry IQ: Serving the deaf and hard-of-hearing patient population 
DIGITAL NEWS & MEDIA OUTLETS:
The Healthy: Dentists Reveal the Worst Ways to Whiten Your Teeth
Prevention Magazine: Is Charcoal Toothpaste the Answer to Whiter Teeth?
Huffington Post/Medium: Meet Dr. Kenneth Magid 
TEEN VOGUE: Sleep Tips 
EmpowHer: Sleep Expert Dr. Sabrina Magid Katz dishes on Sleep tips for women 
Children's Trust: Dental drama and tooth troubles 
AskMen: What your sleeping position says about you 
SheKnows: How bad are pacifiers really?
SheKnows: Why Do We Clench & Grind Our Teeth When We Sleep?
AskMen: Is This Common Sleep Disorder Ruining Your Love Life?
Best Health Magazine: Mouth Taping
Parents Magazine: The Best Electric Toothbrushes for Kids
Dr. Magid, DDS, FICD and Dr. Magid-Katz, DMD have created the beautiful smiles for numerous TV and magazine makeovers, celebrities, and your Westchester County neighbors.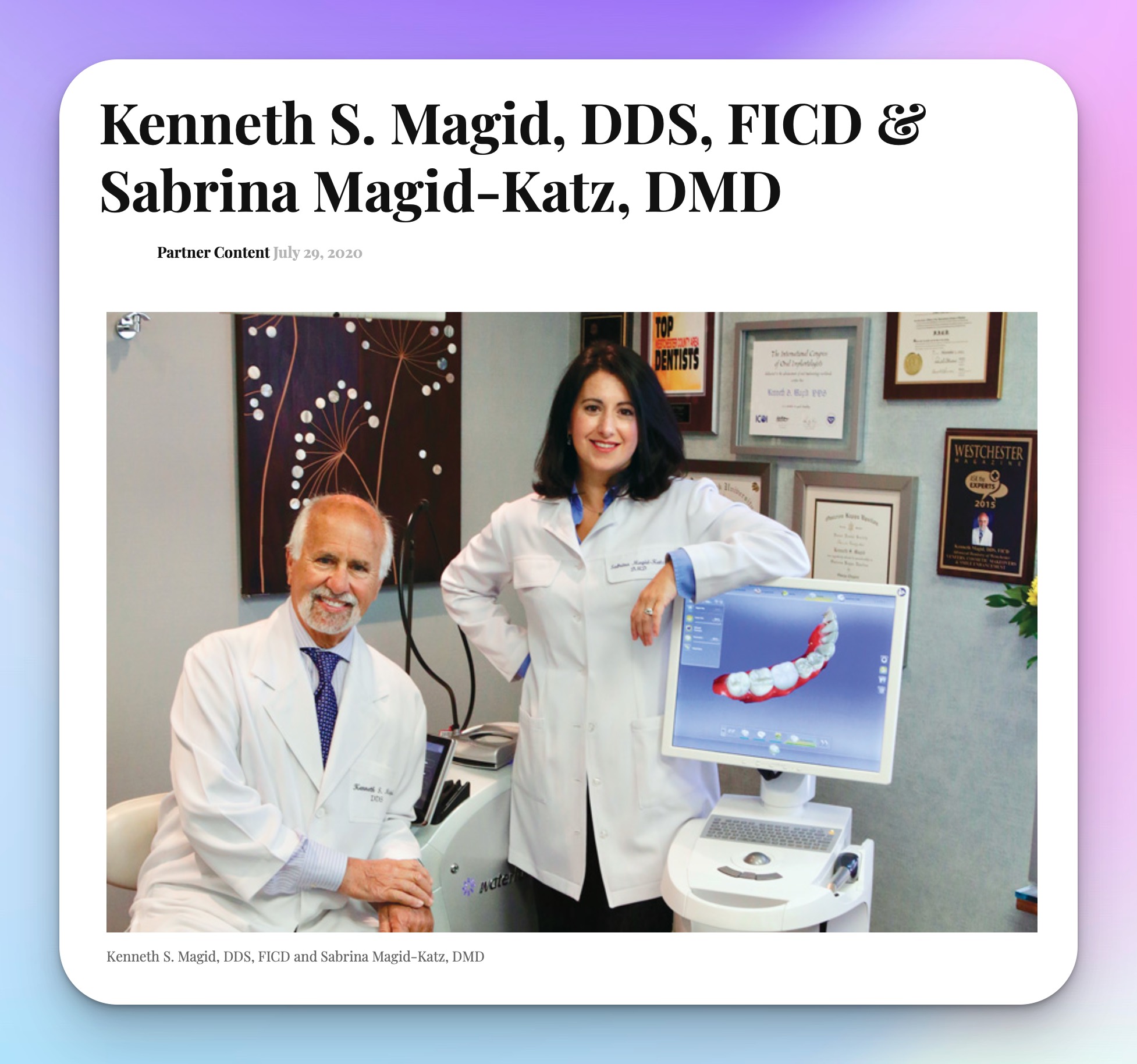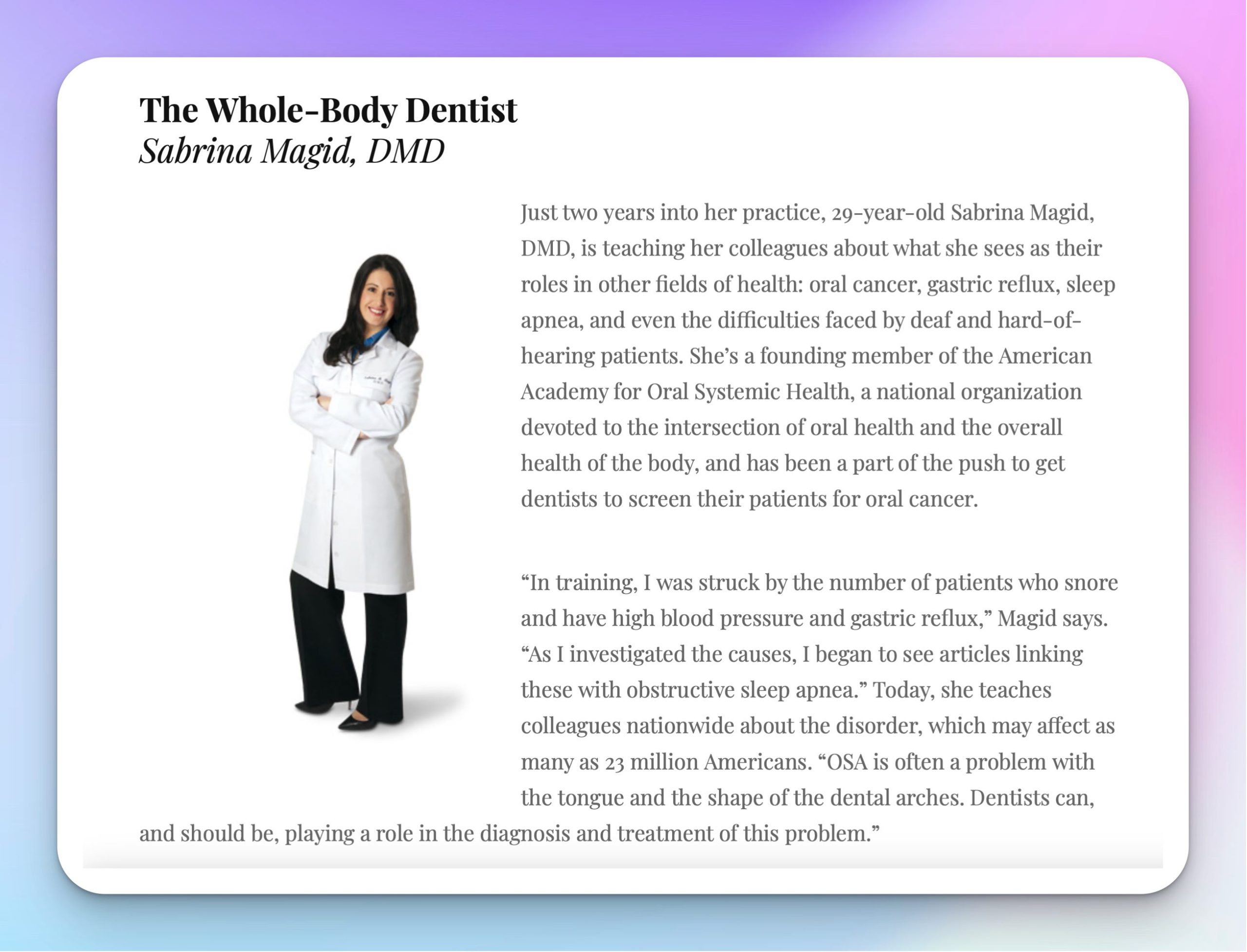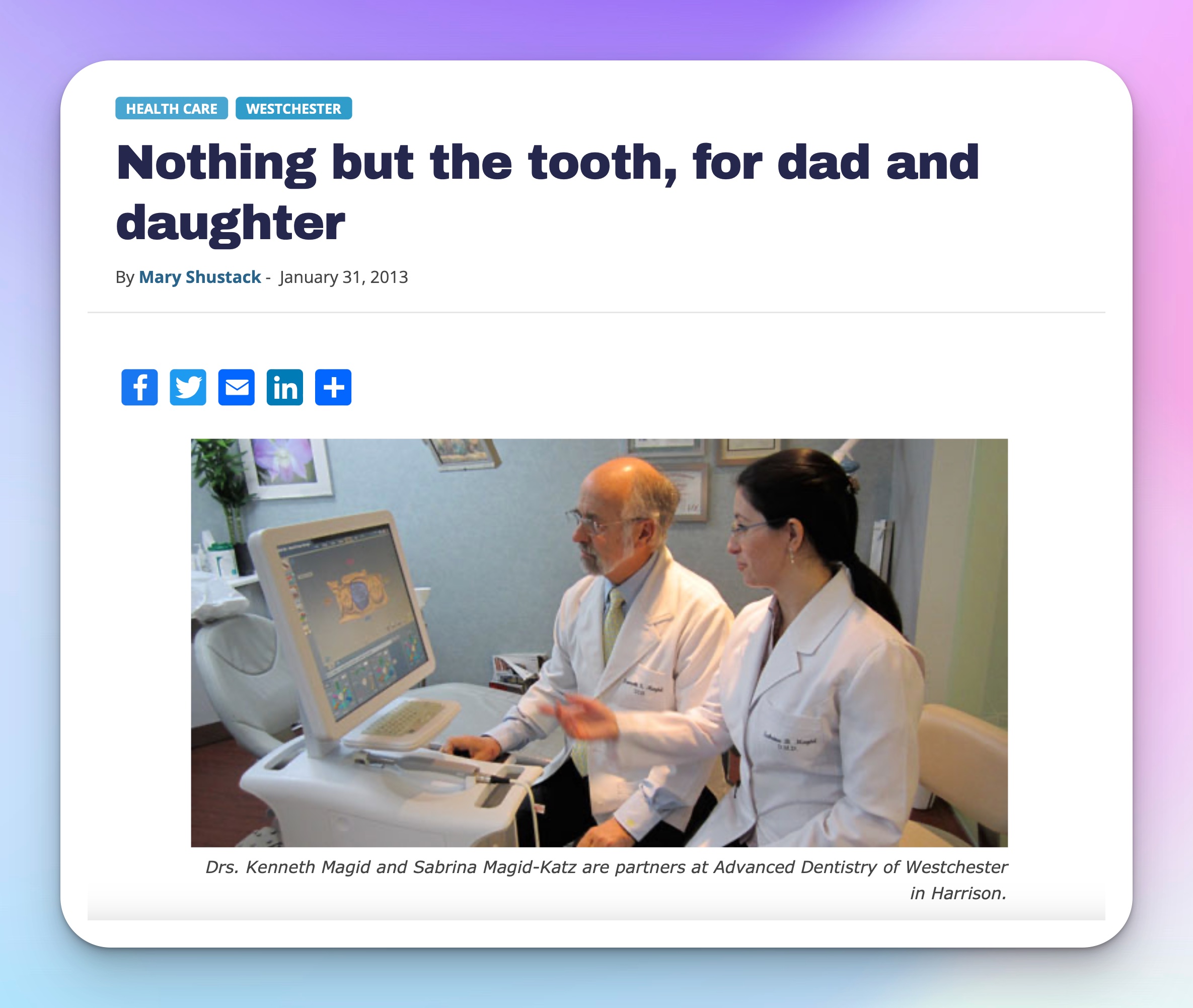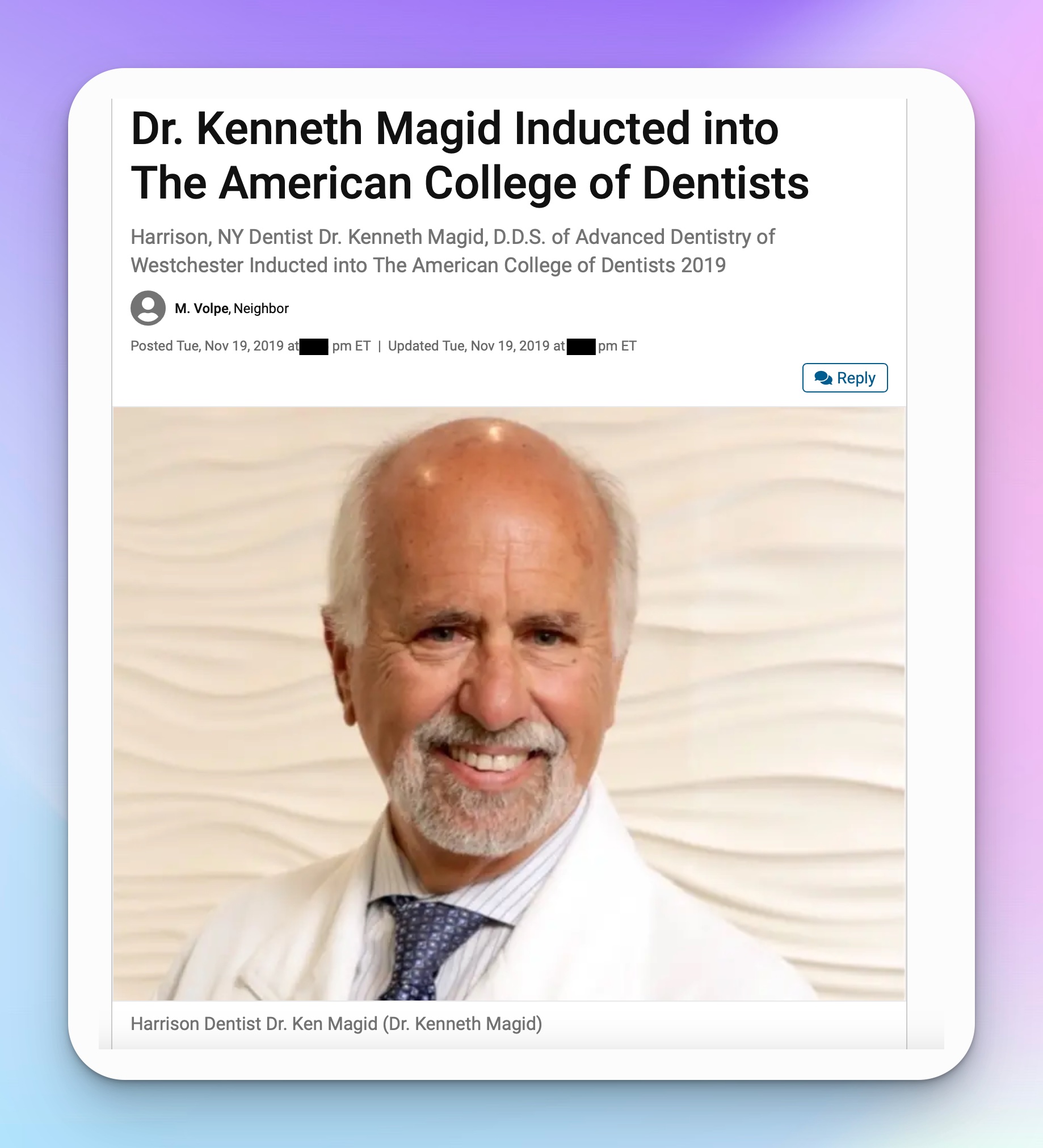 STAY CONNECTED
Social media is a great way for our practice to communicate with both current patients and prospective patients.
We use social media to show cosmetic makeovers so that you can get a behind-the-scenes first look at before and after photos.
We also use social media to communicate with a frightened patient that hasn't been to a state-of-the-art high tech dental practice so you can get a virtual tour of our office.
Follow Advanced Dentistry of Westchester on Social Media:
Looking for a new dentist in Westchester County?
Follow us on social media to determine whether we are the right dentist for you. We hope you will trust us and join our practice family as a new patient.
Facebook: Our Westchester County dental practice has thousands of followers on Facebook. Like our page on Facebook to stay up to date on our practice. You can also leave us a review on Facebook, too!
Instagram: Follow us on Instagram to stay up to date with the latest practice news. Learn about our latest press and awards, and join our thriving community where we share tips on new dental treatments and techniques that Dr. Magid deploys at NYUCD.
Google Reviews: In dentistry, one of the most important measures of success is the continuous growth of positive patient reviews. On Google, we have over 250 5-star reviews written by happy patients. Write a review on Google about your experience with Advanced Dentistry of Westchester.
Have you taken a photo in front of our office?
We want to feature you on our social media!
When you take a photo in front of the office, be sure to tag us on Facebook and Instagram for a chance to be featured!
#AdvancedDentistryOfWestchester
Instagram: @AdvancedDentistryOfWestchester
More Info
Contact Us
Advanced Dentistry of Westchester
Kenneth S. Magid, DDS, FICD
Sabrina Magid-Katz, DMD
163 Halstead Ave. • Harrison, NY 10528
(914) 835-0542
Follow Us on Facebook