Computer Guided Implants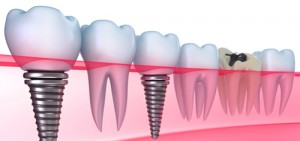 In the case that you lose one or more teeth, Dr. Magid, DDS, FICD, or Dr. Magid-Katz, DMD will use our 3D digital x-ray and the latest technology to place an implant with NO discomfort during or after the procedure, NO loss of time from your busy schedule, with complete control and safety.
A dental implant is a substitute tooth root positioned into the jaw bone to provide an anchored foundation for restorations. Unlike a bridge, an implant is an independent restoration that does not rely on adjacent teeth for stability.
By using implants, Dr. Magid, DDS, FICD, or Dr. Magid-Katz, DMD is able to bring back the ability to chew and enjoy food, while ending the inconvenience and embarrassment associated with removable teeth. Though the implant requires surgery, it is an excellent alternative to a bridge, because neighboring teeth don't need modification to anchor an implant. The ideal candidate for a dental implant will have good oral health, freedom from periodontal disease, healthy gums, and adequate bone in his or her jaw to support the implant's artificial root.
These are just a few of dental implant's advantages:
They look incredibly natural and feel just like real teeth!
They won't compromise neighboring teeth.
They're permanent and stable.
They have a provable high success rate, and are considered an excellent option for replacing a single tooth or multiple teeth.
More Info
Contact Us
Advanced Dentistry of Westchester
Kenneth S. Magid, DDS, FICD
Sabrina Magid-Katz, DMD
163 Halstead Ave. • Harrison, NY 10528
(914) 835-0542
Follow Us on Facebook