Treatment with T-Scan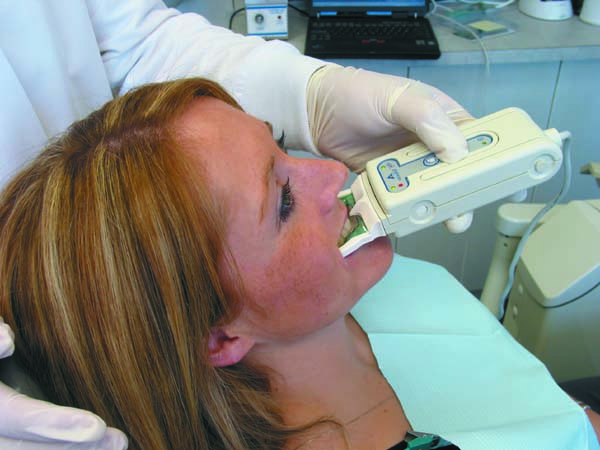 T-Scan® | Westchester County
The T-Scan is a computerized occlusal system that allows our doctors at Advanced Dentistry of Westchester to analyze a patient's bite and determine if there is malocclusion.
Occlusion is the manner in which the upper and lower teeth fit together. Malocclusion literally means "bad bite", meaning there is a problem with the way the upper and lower teeth fit together when biting or chewing.
Symptoms of malocclusion may include:
Clenching or grinding of the teeth.
Jaw pain.
Tooth pain.
Teeth and/or restorations that chip, break or crack.
Excess wear on teeth, restorations or dental prostheses such as dentures.
Headaches.
Neck and upper back pain.
Dizziness.
The way your bite comes together can greatly affect your health. Bad occlusion can cause premature wearing and painful complications such as headaches, ear aches, and neck pains. When your symptoms warrant an occlusion evaluation, Dr. Magid, DDS, FICD, often uses a T-Scan, the only accurate way to analyze your bite.
An ultra thin sensor is placed into your mouth using a special handle. While you bite down on it, the software scans and displays the occlusion on a computer screen.
This instant diagnosis of the occlusion helps Dr. Magid, DDS, FICD, suggest and provide a treatment plan to return you to comfort and health.
More Info
Contact Us
Advanced Dentistry of Westchester
Kenneth S. Magid, DDS, FICD
Sabrina Magid-Katz, DMD
163 Halstead Ave. • Harrison, NY 10528
(914) 835-0542
Follow Us on Facebook