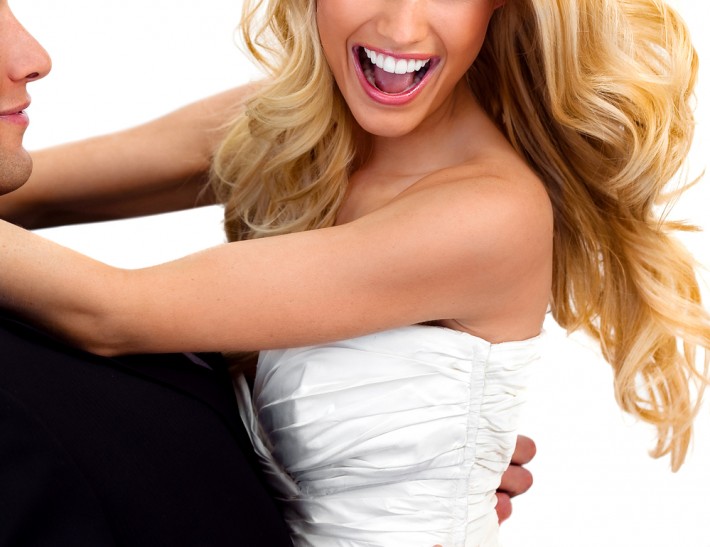 From dress, to venue, to menu— There is a lot to consider when planning a wedding. But what is most often overlooked and forgotten about- is achieving a sparkling smile! We offer many dental and cosmetic treatments that can get your smile in sparkling condition, just in time for wedding season!
What is the value of a smile?
Whether it's in a business meeting, on a date, in a casual conversation, a wedding, a job interview, at a family reunion or just the first hello in the morning, your smile radiates confidence. That kind of confidence reaps rewards every day of your life.
WEDDING DENTAL TREATMENTS
Dental treatments to get before your Wedding Day 
Here are the top treatments we recommend getting before your wedding to achieve a sparkling smile:
Pre-wedding Cleaning
Whether it's your big day or you're a guest, a pre-wedding cleaning is recommended for anyone who wants to look their best in wedding pictures. Be sure to book your cleaning sometime within the month leading up to the wedding, so your teeth will still be sparkling and fresh!
Whitening
If you're a bride, a white smile is necessary to match your pristine white dress! Whitening treatments take as little as two hours and will make a huge difference in your smile and overall appearance.
Veneers
If you're looking to really "wow" the wedding crowd, consider veneers. Veneers would be ideal for wedding guests who want to look their best and make an entrance! Veneers are carefully applied in translucent thin layers so that each tooth can be shaped exactly as you'd like. It can be matched in color with your other teeth, or used to restore your smile to the whiter color of your youth. Think of veneers as whitening and reshaping all-in-one!
Invisalign
Invisalign is the perfect alternative to braces for any bridal party member. Invisalign is a series of virtually invisible plastic aligners that will straighten your teeth and perfect your smile. For adults, a treatment will usually take about one year, so be sure to book a consultation early in your wedding planning!
Fillers
A great smile isn't all about your teeth— for those who want to appear youthful and radiant, fillers are a great option. Fillers will diminish fine lines and wrinkles, making your face appear more voluminous and full. Another bonus, since there is little downtime for filler recovery, you can squeeze an appointment in as a last minute boost before the big day!
If you're interested in any pre-wedding treatments, make an appointment with us today and we'll work together to make a pre-wedding sparkling smile game plan!
More Info
Contact Us
Advanced Dentistry of Westchester
Kenneth S. Magid, DDS, FICD
Sabrina Magid-Katz, DMD
163 Halstead Ave. • Harrison, NY 10528
(914) 835-0542
Follow Us on Facebook